Waiting on Wednesday is a bunch of weekly fun hosted by Jill at
Breaking the Spine
. :)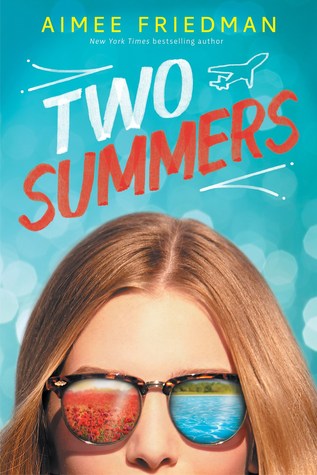 Title:
Two Summers
Author: Aimee Friedman
Release Date: April 26, 2016
Publisher: Point (Scholastic imprint)
From Goodreads:
ONE SUMMER in the French countryside, among sun-kissed fields of lavender . . .
ANOTHER SUMMER in upstate New York, along familiar roads that lead to surprises . . .
When Summer Everett makes a split-second decision, her summer divides into two parallel worlds. In one, she travels to France, where she's dreamed of going: a land of chocolate croissants, handsome boys, and art museums. In the other, she remains home, in her ordinary suburb, where she expects her ordinary life to continue — but nothing is as it seems.
In both summers, she will fall in love and discover new sides of herself. What may break her, though, is a terrible family secret, one she can't hide from anywhere. In the end, it may just be the truth she needs the most.
From New York Times bestselling author Aimee Friedman comes an irresistible, inventive novel that takes readers around the world and back again, and asks us what matters more: the journey or the destination.
This sounds interesting, sort of like the movie Sliding Doors. I don't read a lot of contemporary YA like this, but it sounds like it could be both complicated and fun.