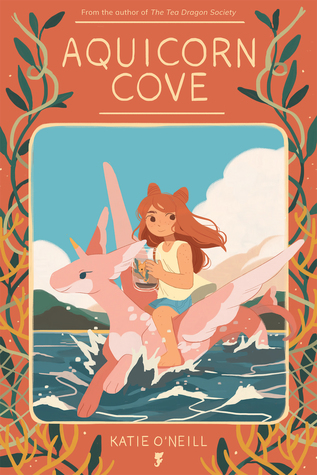 Title:
Aquicorn Cove
Author/artist: Katie O'Neill
Release Date: October 16, 2018
Publisher: Oni Press
When Lana and her father return to their seaside hometown to help clear the debris of a storm, the last thing she expects is to discover a colony of Aquicorns—magical seahorse-like residents of the coral reef. As she explores the damaged town and the fabled undersea palace, Lana learns that while she cannot always count on adults to be the guardians she needs, she herself is capable of finding the strength to protect both the ocean, and her own happiness.
Aquicorn Cove
is sweet and magical and realistic, a tale of happiness and sadness, of discovery and wonder, and of the start of making things right again.
Lana is a little lonely, a little sad after the passing of her mother and her and her father's subsequent move to the city, but she's happy to be back in her little hometown by the sea. Even if they're there to help clean up after a bad storm. But she's back, back in a place that makes her happy. When she discovers a mysterious little sea creature, battered from the storm, in a tide pool, she takes it in, cares for it. And soon Lana discovers there's more to the sea that just waves and the fish her aunt and her grandmother and her grandmother before her have fished from the ocean. There's something far more serious going on.
Katie O'Neill's art style is one of my favourites. The variety of body shapes in all the characters, the little smiles during happy moments. The realistic cabins, farms, and boats against the pastel colours of the undersea palace and the Aquicorns. The wonderful juxtaposition in the first few pages of little Lana struggling to carry her little suitcase from the car to the house while her big, buff Auntie Mae just casually lifts two duffle bags onto her shoulders moments after the two have the biggest, sweetest hug. There's just a wonderful combination of realism and fantasy here.
This is a book that mixes sweetness and hope with sorrow and reality and the impact that people and industry have on the environment. It's about moving on after a loved one has passed away, continuing to live while doing things that remind you of them. It's about change and technology, understanding that making things easier doesn't always make them better for everyone. It's about the little things, young children and small creatures, and why it's so important to listen to them, to help them and care for them. A must-read for fans of Katie O'Neill's gentle fantasy stories.
(I received an e-galley of this title from Oni Press through NetGalley.)