Waiting on Wednesday is a bunch of weekly fun hosted by Jill at
Breaking the Spine
. :)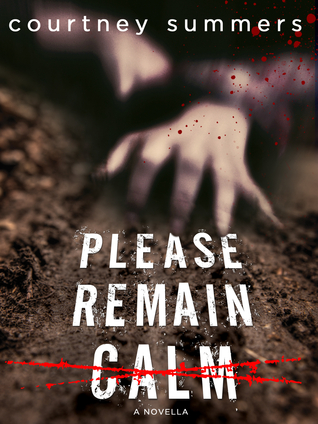 Title:
Please Remain Calm
Author: Courtney Summers
Release Date: January 20, 2015
Publisher: St. Martin's Griffin (Macmillan imprint)
From Goodreads:
In this gripping sequel to THIS IS NOT A TEST, Rhys and Sloane are headed for a safe haven when they get separated along the way. Rhys is determined to reunite with Sloane until he discovers people who might need him more--people who offer him the closest he'll get to everything he's lost, if they can just hold on long enough.
Rhys thinks he has what it takes to survive and find the girl he lost, but in a world overrun by the dead, there are no guarantees and the next leg of his journey will test him in unimaginable ways...
I don't usually add e-novellas to WoW posts, but I had to add this one.
This is Not a Test
was one of the best books I read in 2012, so much so that I still think about it from time to time. It's my favourite Courtney Summers book, possibly because of the zombies. But the way it ended was just so... *flops onto YA angst fainting couch* I need more, and thank you, Courtney, for giving us more. :)