Waiting on Wednesday is a bunch of weekly fun hosted by Jill at
Breaking the Spine
. :)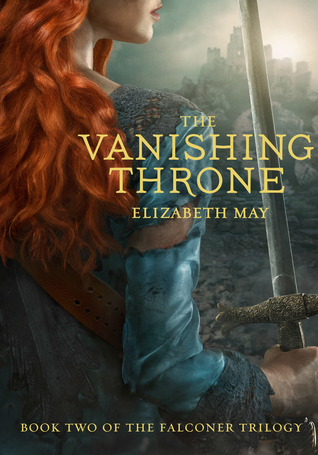 Title:
The Vanishing Throne
Author: Elizabeth May
Release Date: June 7, 2016
Publisher: Chronicle Books
From Goodreads:
The second book in the Falconer trilogy is packed with surprises and suspense.
Aileana Kameron, the Falconer, disappeared through the portal that she was trying to close forever. Now she wakes up in the fae world, trapped and tortured by the evil Lonnrach. With the help of an unexpected ally, Aileana re-enters the human world, only to find everything irrevocably changed. Edinburgh has been destroyed, and the few human survivors are living in an uneasy truce with the fae, while both worlds are in danger of disappearing altogether. Aileana holds the key to saving both worlds, but in order to do so she must awaken her latent Falconer powers. And the price of doing that might be her life.
Rich with imaginative detail, action, fae lore, and romance, The Vanishing Throne is a thrilling sequel to The Falconer.
I'm so looking forward to this. I remember reading the first one and falling in love with it, finding it to be something I was looking for. Something familiar but also different and new. I can't wait to see what happens next, what happens to Alieana. I get the feeling that I'm going to have to re-read the first book before this come out in the summer.