Waiting on Wednesday is a bunch of weekly fun hosted by Jill at
Breaking the Spine
. :)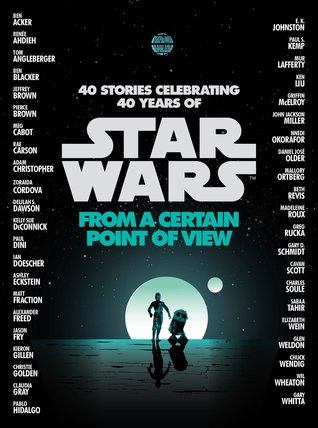 Title:
Star Wars: From a Certain Point of View
Authors: Ben Acker and Ben Blacker, Renée Ahdieh, Tom Angleberger, Jeffrey Brown, Pierce Brown, Meg Cabot, Rae Carson, Adam Christopher, Zoraida Córdova, Delilah S. Dawson, Kelly Sue DeConnick and Matt Fraction, Paul Dini, Ian Doescher, Alexander Freed, Jason Fry, Kieron Gillen, Christie Golden, Claudia Gray, Pablo Hidalgo, E. K. Johnston and Ashley Eckstein, Paul S. Kemp, Mur Lafferty, Ken Liu, Griffin McElroy, John Jackson Miller, Nnedi Okorafor, Daniel José Older, Mallory Ortberg, Beth Revis, Madeleine Roux, Greg Rucka, Gary D. Schmidt, Cavan Scott, Charles Soule, Sabaa Tahir, Elizabeth Wein, Glen Weldon, Chuck Wendig, Wil Wheaton, & Gary Whitta
Release Date: October 3, 2017
Publisher: Del Ray (Random House imprint)
From Goodreads:
In celebration of Star Wars' 40th anniversary, Del Rey is going to shine the spotlight on those unsung weirdos, heroes, and villains with a unique, new anthology. Star Wars: From a Certain Point of View, coming October 2017, will bring together more than 40 authors for 40 stories. Each will be told from the perspective of background characters of A New Hope — from X-wing pilots who helped Luke destroy the Death Star to the stormtroopers who never quite could find the droids they were looking for.
A Star Wars anthology about a bunch of background characters from Episode 4? With some of my favourite author/writer people (Kate! Zoraida! Kelly Sue DeConnick! Beth! Claudia!)? SIGN ME UP.