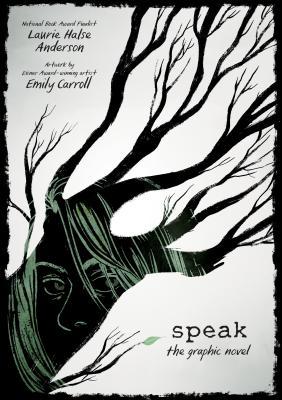 Title:
Speak: The Graphic Novel
Author: Laurie Halse Anderson
Artist: Emily Carroll
Release Date: February 6, 2018
Publisher: Farrar Straus Giroux Books for Young Readers (Macmillan imprint)
From the first moment of her freshman year at Merryweather High, Melinda knows this is a big fat lie, part of the nonsense of high school. She is friendless--an outcast--because of something that happened over the summer. Now nobody will talk to her, let alone listen. So what's the point of talking? Through her work on an art project, Melinda is finally able to face what really happened that night. But before she can make peace with the ghosts of the past, she has to confront the reality of the present--and stop someone who still wishes to do her harm. Only words can save her. She can't stay silent. Not anymore.
Speak: The Graphic Novel
is just as powerful, just as emotional, just as necessary as the original. Here, Melinda's story is brought to life. Her pain, her fear, her struggle there on the page for readers to see, in bare branches and bitten lips. In people shouting and crying, in stuffed rabbits. In looming monsters.
(A quick preface to say that first, this will be a much more casual review than usual, and second, that I haven't read the original version of
Speak
but I did know the summary before reading this.)
Stories like this, like Melinda's, like anyone who's been groped or assaulted or raped, are important. It's important to speak out against rapists and abusers. But for so many it's hard to say the words. Hard to speak out when the attacker is a big name in the community, is someone popular at school, is a famous actor or politician. When people call the victim a liar, say that it was all a misunderstanding or a joke. It's not. Rape isn't funny. I think it's so timely and vital that
Speak
is brought to life as a graphic novel, that Melinda's story is brought forward in time in order to feel more modern, and that Emily Carroll is the artist accompanying Laurie Halse Anderson's words. I find Carroll's art style to be rather eerie and haunting, perfect for this story and this subject. Thin lines and thin limbs, shadowed eyes and expressive faces all in black and white and shades of grey, no colour to break it up. It's heavy, weighing down on the reader. On Melinda. On what she should do with everything looming over her. Parents, grades, the school social scene. IT.
This is a must-read for high school students, all ages and all genders. To show them that their pain is real. To show them that consent is important. To show them that everyone has the right to speak out, even if they can't bring themselves to immediately after the attack. To show them that no one is alone in their silence and suffering.
(I received a finished copy of this title from Raincoast Books.)