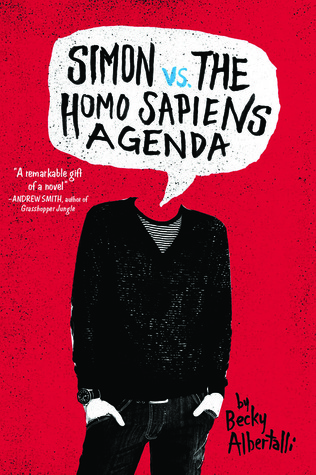 Title:
Simon vs. the Homo Sapiens Agenda
Author: Becky Albertalli
Release Date: April 7, 2015
Publisher: Balzer + Bray (HarperCollins imprint)
Sixteen-year-old and not-so-openly gay Simon Spier prefers to save his drama for the school musical. But when an email falls into the wrong hands, his secret is at risk of being thrust into the spotlight. Now Simon is actually being blackmailed: if he doesn't play wingman for class clown Martin, his sexual identity will become everyone's business. Worse, the privacy of Blue, the pen name of the boy he's been emailing, will be compromised. With some messy dynamics emerging in his once tight-knit group of friends, and his email correspondence with Blue growing more flirtatious every day, Simon's junior year has suddenly gotten all kinds of complicated. Now, change-averse Simon has to find a way to step out of his comfort zone before he's pushed out—without alienating his friends, compromising himself, or fumbling a shot at happiness with the most confusing, adorable guy he's never met.
Simon vs. the Homo Sapiens Agenda
is a fun, sweet, and intelligent story. There's a genuine scared and hopeful voice in Simon, one that resonates throughout the book.
Simon's mind is racing as he struggles to solve the dilemmas that circle his head. Like who he wants to be. Like who he is vs who other people think he is. He's comfortable with his life, his world. Maybe not with the not-yet-openly gay part, but still comfortable. Good friends, a great family. A nice boy to e-mail about being gay and maybe one day telling people face-to-face. So why do things have to change? Why do people have to change?
Identity is big. Who or what we see ourselves as. But why does it matter so much to other people? Why does it matter if someone's really smart, really artistic? Why does it matter if someone's gay or straight or bisexual? Why does it matter if someone's male or female, intersex or transgender or genderqueer? Why does it matter if someone's asexual or aromantic? Why do we focus on labeling people so much? It's not our business, it's never our business, so why do we make it our business? Because that person's different from us? Because some of us find a bizarre kind of validation in discovering someone who's different? In our current rather visual-based society, we focus so much on what makes us different. Hair colour, skin colour, height, weight. Level of education, political views. Gender. Sexuality. I'm not so sure that it's healthy.
Change sucks. All of us are comfort creatures, grabbing tight to the things that make us feel happy and warm inside because we know they'll never betray us. But change still happens. It shows up when we don't want it to, when we've fallen into a good rhythm and suddenly this obnoxious trumpet shows up, ruining the band's groove so badly they're seconds away from an epic on-stage break up. Simon just wants to be Simon. Why do people need to ruin that and push him along? Because, as painful as it can be, sometimes we need the push. For as much as we hate change, we crave progress. We crave learning and experiencing new things. It's finding the perfect balance of the two that's so hard.
In some ways, this is a coming out story. But it's so much more than that. It's about friendship and how it evolves as we learn about people more and more. It's about being honest with yourself and those who've continued to support you. It's about accepting yourself, loving yourself. It's about not being afraid to take risks because that head-over-heels tumble into love will make it all worth it. It's about looking beyond the 'default.' There is no 'default.' No one is the same. Everyone is different. Everyone needs to read this book.
(I downloaded an e-galley of this title from HarperCollins through Edelweiss.)