Waiting on Wednesday is a bunch of weekly fun hosted by Jill at
Breaking the Spine
. :)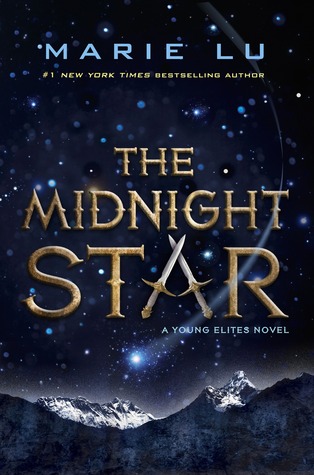 Title:
The Midnight Star
Author: Marie Lu
Release Date: October 11, 2016
Publisher: G.P. Putnam's Sons Books for Young Readers (Penguin imprint)
From Goodreads:
The thrilling finale to the New York Times bestselling Young Elites series from "hit factory" Marie Lu.
There was once a time when darkness shrouded the world, and the darkness had a queen.
Adelina Amouteru is done suffering. She's turned her back on those who have betrayed her and achieved the ultimate revenge: victory. Her reign as the White Wolf has been a triumphant one, but with each conquest her cruelty only grows. The darkness within her has begun to spiral out of control, threatening to destroy all that she's achieved.
Adelina's forced to revisit old wounds when a new danger appears, putting not only Adelina at risk, but every Elite and the very world they live in. In order to save herself and preserve her empire, Adelina and her Roses must join the Daggers on a perilous quest—though this uneasy alliance may prove to be the real danger.
Bestselling author Marie Lu concludes Adelina's story with this haunting and hypnotizing final installment to the Young Elites series.
This whole series has been a dark, deep descent into madness and sorrow and anger. Adelina is evil, creeping further and further away from the line that divided evil from good. I'm so excited to see how this series will end, how many more will die because of her and around her. I do wonder if Adelina herself will die at the end, if she's too far gone from redemption and has to be defeated.