Waiting on Wednesday is a bunch of weekly fun hosted by Jill at
Breaking the Spine
. :)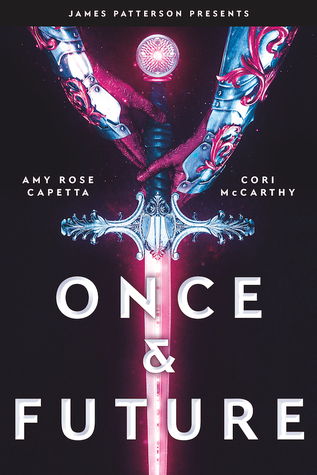 Title:
Once & Future
Authors: Amy Rose Capetta & Cori McCarthy
Release Date: March 5, 2019
Publisher: Little, Brown Books for Young Readers (Hachette Book Group imprint)
From Goodreads:
I've been chased my whole life. An illegal immigrant in Mercer-controlled territory, I've always had to hide who I am. Until now.
When Ari crash lands on Old Earth, and pulls a magic sword from its ancient resting place, she becomes the forty-second reincarnation of King Arthur. Merlin awakes to find that having aged backward over the last forty-one Arthurs, he is now-wretchedly-a teenager. Ari may be Merlin's final chance to complete the steps of the cycle: 1) Train Arthur 2) Defeat the greatest evil in the universe. 3) Unite all of mankind. No pressure.
I don't know about prophecies or kings, but I do know this: Mercer is evil. They've imprisoned my parents, enslaved worlds, and now they're after my friends. I'm done hiding.
My name is Ari Helix. I have a magic sword, a cranky wizard, and a revolution to start.
A sci-fi genderswapped Arthur and Merlin retelling?! Why yes, I am interested. This sounds really interesting. And it's the start of a duology, which means it's nice that there'll be more and also nice in that the wait might not be as long as others. And the cover is gorgeous.