Waiting on Wednesday is a bunch of weekly fun hosted by Jill at
Breaking the Spine
. :)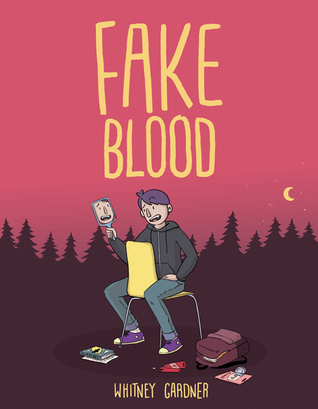 Title:
Fake Blood
Author: Whitney Gardner
Release Date: September 4, 2018
Publisher: Simon & Schuster Books for Young Readers
From Goodreads:
It's the beginning of the new school year and AJ feels like everyone is changing but him. He hasn't grown or had any exciting summer adventures like his best friends have. He even has the same crush he's harbored for years. So AJ decides to take matters into his own hands. But how could a girl like Nia Winters ever like plain vanilla AJ when she only has eyes for vampires?
When AJ and Nia are paired up for a group project on Transylvania, it may be AJ's chance to win over Nia's affection by dressing up like the vamp of her dreams. And soon enough he's got more of Nia's attention than he bargained for when he learns she's a slayer.
Now AJ has to worry about self-preservation while also trying to save everyone he cares about from a real-life threat lurking in the shadows of Spoons Middle School.
This sounds fun and quirky and full of weird kids. It sounds like something a little different than most middle grade stories. And the fact that it's a graphic novel, I'm so on board.