This Week's Book Week is a less wittily-titled version of Stacking the Shelves brought to us by
Tynga's Reviews
.
There wasn't a post last week because I didn't get any books, and this one's a small one since I only got two books. And they're ones I bought on super mega book release day on the 18th. Maybe I'll get some book mail next week.
So many books came out on the 18th.
The Raven Boys
.
Adaptation
.
The Diviners
.
What's Left of Me
.
Burn for Burn
.
Ten
.
Necromancing the Stone
. And I only bought two books. I would've bought
What's Left of Me
and
Adaptation
, but they didn't have any copies. Because Canada is weird like that. I'll be keeping an eye out, though.
You know what I realized this week? Both the books I bought are by authors who are stopping in Toronto for signings in the next couple of weeks. *head-desk* If I know you, and you're going to a signing or event or book launch this fall, do you mind sending me any extra swag you happen to pick up if you get the chance to grab extra swag? There are no events near me on this side of the border in the next few weeks. The last time I was at a signing? July, when I drove out to see Denise Jaden at her launch for
Never Enough
about two and a half months ago. And I thought we were getting more YA authors to come up to Vancouver for signings. Hmmm.
I have a bunch of books that I've bought and read or borrowed and read or bought and haven't read and I was wondering if you want to see any reviews of those books. Some titles include
Burn for Burn
,
Origin
,
A Want So Wicked
, and
Dangerous Boy
. I ask because I've got some gaps in my review schedule and these books need reading. It's also because I don't want my eyes to go weird from screen vision from e-galley reading. :)
Reviews to be posted this week will feature
Who I Kissed
by Janet Gurtler and
Through to You
by Emily Hainsworth, so if you're interested in either of those books, drop by again on Tuesday and Friday. :)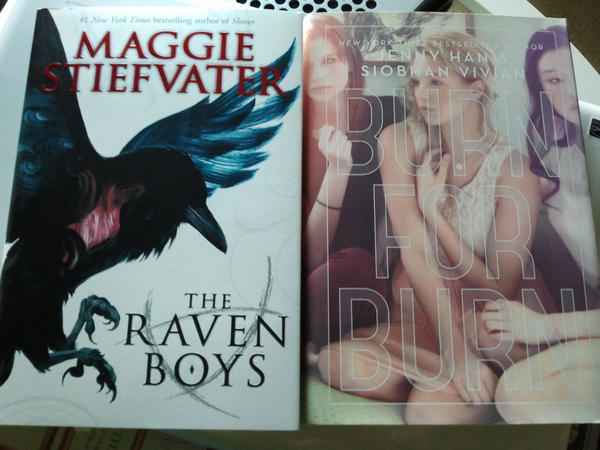 Bought:
The Raven Boys
by Maggie Stiefvater
Burn for Burn
by Jenny Han & Siobhan Vivian